Welcome to l'Ancienne Ecole du Villard!
This little school was used as the primary school of the farming village Le Villard. Now it is an attractive chambres d'hôtes (bed & breakfast) with five comfortable guest rooms with private bathroom and possibility for a tasty three-course dinner (table d'hôtes).
L'Ancienne Ecole du Villard is located in the heart of the Chartreuse mountain range in the French Pre-Alps. The ideal place for hikers, cyclists, winter sports enthusiasts and motorcyclists!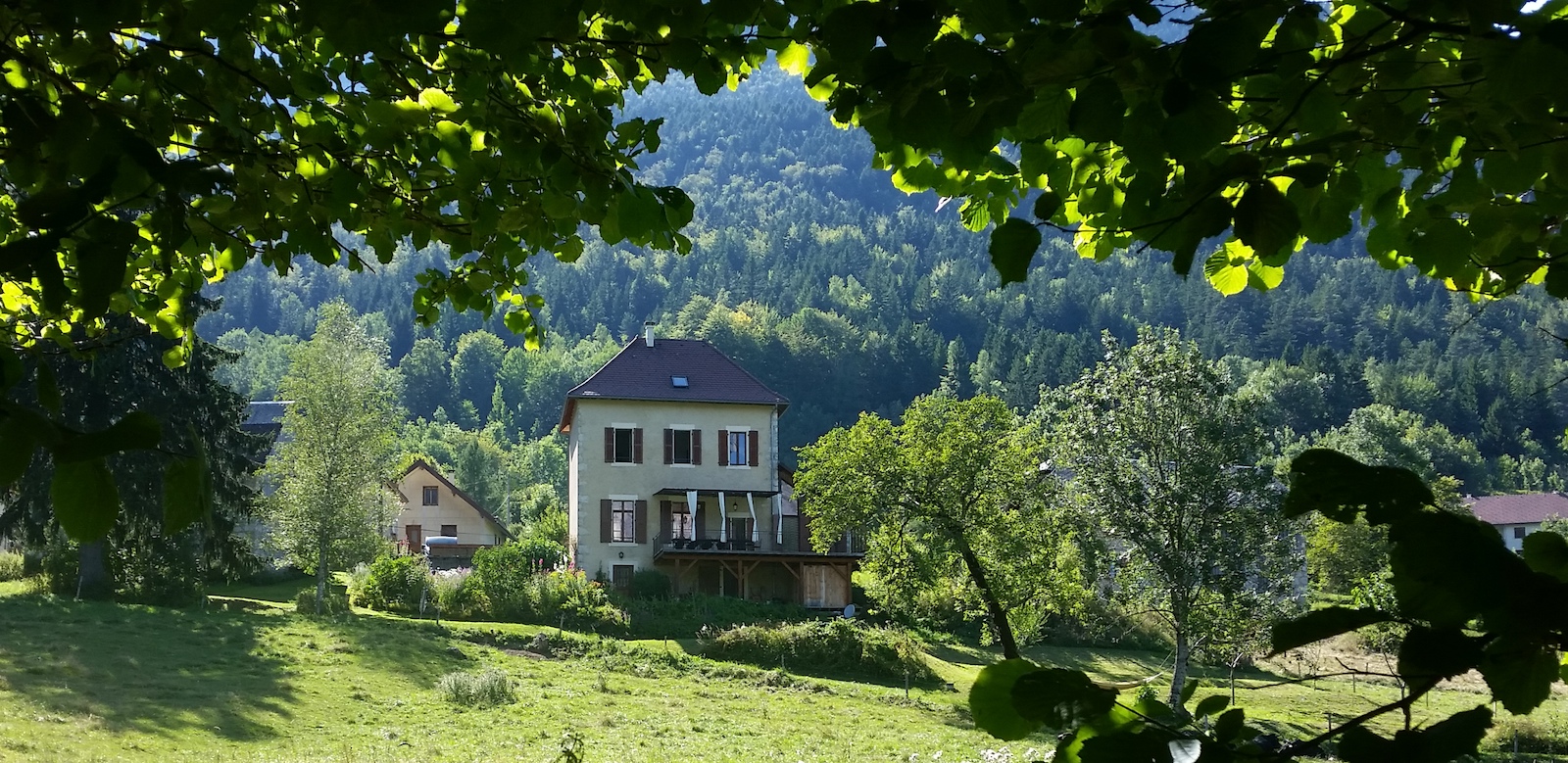 The rooms
The Ecole has five comfortable and attractive rooms, suitable for 2 people, including a family room for 4 people.
Each room has its own bathroom with shower, sink and toilet. The rooms are located on the first and second floor.
On the ground floor there is a large living room with a sitting area, dining tables and a kitchen corner. The four large sliding windows give a beautiful view of the two table mountains and surroundings. The wood stove provides a warm and cozy atmosphere. The large terrace is a wonderful place to have breakfast in the morning and dinner in the evening when the weather is nice.
The location
The house is on a slope at 880 meters altitude. There is a private car park at the front of the house that can comfortably accommodate five cars. The large garden consists of terraces with grass and wild borders. There are many spots about the place where you can read a book or day dream in an easy chair with a view over the surrounding landscape.
The first thing you will notice upon arrival is the beautiful area in which the house is located. Green meadows, separated by wooden walls with footpaths in between, surround the house. Two beautiful table mountains dominate the view from the rooms and from the large terrace. Beautiful walks and bike rides can be made directly from the house.
The village St. Pierre d'Entremont is located a couple of miles down, in the valley below and has a grocery, cheeseshop, butcher, pharmacy, general doctor, tourist office, post office, bank and a petrol station.

Table d'hôtes
On request we will be happy to prepare a three course meal for you, once or several days. In doing so, we use local products as much as possible and cook a variety of dishes. A three-course dinner costs € 25 p.p. If you want to use our table d'hôtes we would like to hear from you at least 2 days before your arrival, as well as any dietary requirements.
So if you like hiking, cycling, skiing, or motorcycling, a comfortable stay and a nice evening meal in a relaxed atmosphere? Then book our 'school' in the Chartreuse.
We look forward to seeing you!
Marjolein and Paul Bogaards
l'Ancienne Ecole du Villard
2373 Route du Planolet
Hameau du Villard
38380 Saint Pierre d'Entremont, France
E-mail: info@gite-en-chartreuse.com
Landline: + 33 4 79 26 22 30, we speak English
Mobile: + 33 6 38  91 11 65
www.gite-en-chartreuse.com
Facebook: @EcoleduVillard
Instagram: ecoleduvillard